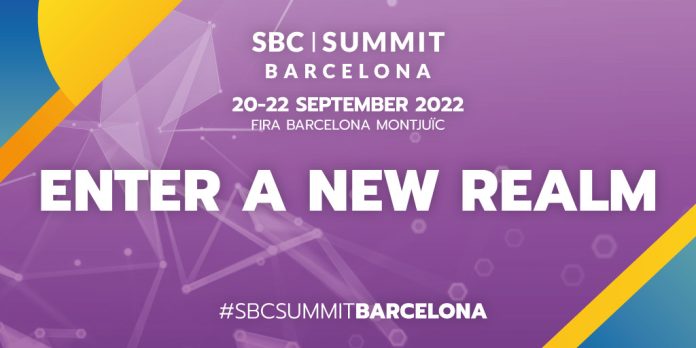 SBC Summit Barcelona akan memperkenalkan para pesertanya ke era baru teknologi dan konsep metaverse yang banyak diperdebatkan di zona khusus selama acara industri taruhan dan gaming olahraga terkemuka pada 20-22 September.
Sektor teknologi, blockchain, dan metaverse yang sedang berkembang juga akan menjadi tuan rumah SBC First Pitch Barcelona perdana yang ditenagai oleh Yolo Investments. Enam perusahaan rintisan industri akan meluncurkan produk mereka di depan investor, bersaing untuk mendapatkan paket hadiah eksklusif senilai lebih dari €50.000.
Di lantai pameran, para delegasi akan mendapatkan pandangan pertama tentang teknologi dan inovasi terbaru dari start-up industri, dengan sextet First Pitch — Kero Gaming, OSAI, XRBET, Paradox, POW Gaming, dan Network Gaming — juga hadir di area yang relevan .
Sorotan zona mencakup keynote dari perintis metaverse Matthew Ball, yang akan memberikan lebih banyak kejelasan tentang apa itu metaverse, kapan itu mungkin muncul dan relevansinya dengan industri kami.
Agenda ini juga menampilkan jajaran pembicara yang mengesankan yang menyampaikan konten konferensi selama berjam-jam yang berfokus pada Web 3.0, NFT, cryptocurrency, dan teknologi baru yang akan membentuk masa depan industri.
Diskusi panel akan terbukti bermanfaat bagi eksekutif tingkat C yang ingin memodernisasi strategi perusahaan, profesional produk dan pemasaran, serta perusahaan rintisan yang beroperasi di industri ini.
Sorotan lain dari agenda konferensi meliputi:
Rabu, 21 September 2022
Sesi 'Pemasaran di metaverse' berfokus pada cara terbaik untuk memastikan produk Anda diperhatikan di metaverse. Panel terdiri dari Ulrich Gilot (Kepala Media, Betsson Group), Marcus Holmström (Co-founder dan CEO, The Gang), Eddie Boyle (Direktur Komersial Internasional, Azerion), Lewis Buck (Manajer Kemitraan Olahraga, Bidstack), dan Fredrik Kinge (CEO & Mitra, Manajemen Media ECI). Para pembicara akan membahas bagaimana perusahaan dapat memanfaatkan peluang kemajuan teknologi baru dan apakah 'mencapai yang pertama' akan memberi mereka keunggulan atas pesaing mereka. Mark Grech (Chief Product and Technology Officer, thewknd), David Bartram (Co-founder, CryptoGamblingNews.com), John Caldwell, (Co-Founder, i3Soft), Lorena Torregrosa (COO, Lynxbet), dan Dan Gunsberg (Co-Founder , Hxro) akan memeriksa bagaimana operator dapat menggunakan teknologi blockchain untuk meningkatkan kepercayaan pada merek mereka dan pelajaran yang dapat dipelajari oleh operator tradisional dari kasino kripto.
Kamis, 22 September 2022
Tom Waterhouse (Chief Investment Officer, WaterhouseVC), Sandford Loudon (Mitra, Oakvale Capital), David VanEgmond (CEO & Pendiri, Bettor Capital) dan Richard Carter (Mantan CEO, Bragg Gaming & SBTech) akan membahas 'Emerging Tech & Blockchain – Dimana haruskah uang mengalir?' Para panelis akan fokus pada di mana investor dan perusahaan baru harus memfokuskan strategi investasi dan akuisisi mereka di lingkungan dengan banyak pasar, teknologi baru yang subur, dan berbagai vertikal produk. Stuart Morrison (CEO, Crypto Snack), Paul Polterauer (CEO & Co- pendiri, HEROcoin), Yonit Shvinkelstain (Co-Founder, Leverage), dan Eilon Arad (CEO, CoinPoint) akan membahas apakah token adalah peluang besar berikutnya untuk keterlibatan dan menilai peran token di masa depan.
Rasmus Sojmark, CEO & Pendiri SBC, mengatakan: "Kami selalu mengatakan bahwa industri kami dinamis dan cepat beradaptasi dengan keadaan baru. Teknologi lebih mudah diakses, kebiasaan orang berubah, dan pelanggan lebih canggih dari sebelumnya, sehingga semakin sulit untuk memperoleh dan mempertahankan prospek baik Anda bisnis B2B atau B2C.
"Inilah mengapa zona 'Emerging tech, Blockchain & Metaverse' adalah tambahan terbaru kami untuk denah lantai SBC Summit Barcelona 2022. Saya merekomendasikan kepada peserta kami untuk mengikuti sesi panel di panggung khusus, karena teknologi yang muncul dan kebangkitan metaverse relevan untuk setiap industri vertikal di luar sana."
SBC Summit Barcelona berlangsung antara 20-22 September. Dapatkan akses penuh Anda ke acara terbesar SBC dengan harga €495 atau bawa dua (atau lebih) anggota tim dan hemat 30% untuk tiket Anda.