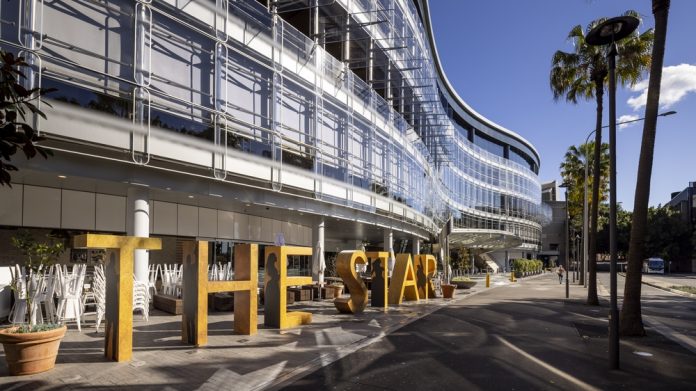 Star Entertainment Group telah terkena hukuman rekor untuk operator Australia karena kegagalan pencucian uang, dengan lisensinya juga ditangguhkan tanpa batas waktu.
Efektif sejak 21 Oktober, The Star menerima pemberitahuan tertulis dari Komisi Kasino Independen New South Wales dan telah diberitahu untuk membayar denda uang total sebesar A$100 juta ($62 juta, £55 juta) pada jadwal yang belum disepakati oleh NICC.
Kasino Star Sydney akan tetap buka dan beroperasi dengan NICC menunjuk Nicolas Weeks sebagai Manajer properti untuk jangka waktu 90 hari, dapat diperpanjang oleh regulator. Staf di properti tidak akan terpengaruh oleh janji temu.
Penerbitan denda rekor datang setelah Independent Liquor & Gaming Authority mengamanatkan penyelidikan publik yang ditugaskan untuk menilai kesesuaian grup untuk memegang lisensi kasino Sydney awal tahun ini.
Pada bulan Juni, pemerintah Queensland menguraikan sejumlah bidang utama yang akan diselidiki oleh penyelidikan, termasuk penggunaan fasilitas kartu debit atau kredit China UnionPay, dan pengaturan lainnya, untuk membantu memfasilitasi perjudian oleh warga negara China meskipun ada pembatasan pergerakan mata uang.
Pada saat penjelasan, terdengar tuduhan bahwa The Star menyamarkan pembayaran sebesar A$900 juta dari rekening bank UnionPay melalui hotel-hotel yang berdekatan dengan lokasinya, sebelum mentransfer uang tersebut ke pelanggan.
Selain itu, Queensland juga menegaskan, pada saat itu, bahwa komitmen terhadap tanggung jawab anti pencucian uang akan dipertimbangkan, termasuk mendeteksi dan mencegah risiko pencucian uang, penerapan sistem mengenal pelanggan Anda dan kewajiban uji tuntas pelanggan yang ditingkatkan dan berkelanjutan.
Dalam pengumuman pasar yang dikeluarkan oleh Justin Nelson, Penasihat Utama, Kepatuhan Daftar (Sydney), sekuritas grup akan dihentikan perdagangannya atas permintaan The Star Entertainment Group, menunggu rilis pengumuman.
Pada periode penangguhan, disarankan oleh NICC, ini akan memungkinkan Komisi untuk mengeksplorasi antara dirinya sendiri, The Star dan TSEG, tentang kemungkinan The Star akan dapat menunjukkan kepada NICC bahwa mungkin cocok untuk memegang lisensi kasino di masa depan yang dekat.
Denda dari NICC datang lebih dari setahun setelah perusahaan game Australia menanggapi tuduhan bahwa mereka terlibat dalam serangkaian praktik yang tidak pantas, mirip dengan saingannya di Crown Resorts.
Investigasi, yang dipimpin oleh outlet media Sydney Morning Herald, Age and 60 Minutes, menuduh bahwa, antara 2014 dan 2021, kasino memungkinkan dugaan pencucian uang, kejahatan terorganisir, penipuan skala besar, dan campur tangan asing melalui tempat-tempatnya.
Menanggapi tuduhan pada saat penyelidikan, kelompok itu mengatakan: "The Star prihatin dengan sejumlah pernyataan dalam laporan media yang dianggap menyesatkan. Ada kendala dalam mendiskusikan individu tertentu secara terbuka.
"Kami akan mengambil langkah-langkah yang tepat untuk mengatasi semua tuduhan dengan regulator dan otoritas negara bagian dan federal yang relevan, termasuk Tuan Adam Bell SC yang melakukan peninjauan reguler terhadap The Star Sydney sesuai dengan Casino Control Act 1992 (NSW)."
Menambahkan: "The Star beroperasi di industri yang sangat diatur. Kami tunduk pada pengawasan peraturan yang menyeluruh dan berkelanjutan termasuk pemeriksaan dan tinjauan kepatuhan di seluruh operasi perusahaan di NSW dan Queensland."