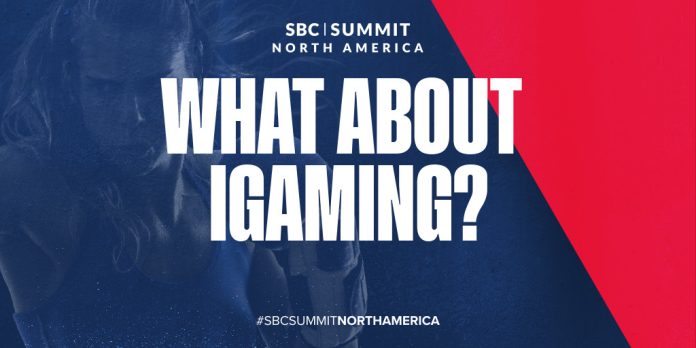 Meskipun taruhan olahraga legal di 36 negara bagian AS, industri igaming mungkin terlihat tertinggal di pasar AS. Namun, karena pendapatan di seluruh dunia terus melebihi rekan taruhannya, masa depan vertikal ini tidak boleh diabaikan.
Jalur konferensi 'iGaming Americas' di SBC Summit Amerika Utara, yang berlangsung di Meadowlands Exposition Center, berfokus pada masa depan kasino online dan mempersiapkan penonton untuk potensi perluasannya di luar enam negara bagian saat ini.
Pada hari pertama acara (10 Mei), pakar industri akan terlibat dalam diskusi yang menggugah pemikiran tentang model peluncuran ideal untuk igaming dibandingkan dengan taruhan olahraga, penerapan dan integrasi teknologi dan inovasi baru, bagaimana merek kesukuan dapat memanfaatkan teknologi untuk bersaing dengan merek yang digerakkan oleh media massa, fase pertumbuhan di Ontario, status undang-undang saat ini di antara berbagai negara bagian, dan potensi legalisasi di New York.
Sorotan meliputi:
Diskusi panel berjudul 'Model Peluncuran iGaming – Ikuti Taruhan Olahraga atau Bentuk Jalur Anda Sendiri?' akan fokus pada pendekatan terbaik untuk peluncuran pasar baru, berbeda dengan model peluncuran taruhan yang secara tradisional menekankan akuisisi pelanggan. Panel akan memberikan wawasan ahli tentang model-model alternatif yang mengenali seluk-beluk sektor ini dan secara efektif memanfaatkan basis pelanggan kasino ritel yang sudah mapan.
Panel tersebut akan menampilkan Matthew Sunderland (SVP – iGaming, Caesars Entertainment), Matt Para (Principal, 10MB), David Senior (Head of Sportsbook, Betsson Group) dan Joseph Bunevith (Direktur Solusi Klien, GLl). Becky Kingman-Gros (COO, iGaming Player & Majalah GGB) akan menjadi moderator diskusi.
'Tribal Innovations: Technology' akan menyelidiki tantangan yang dihadapi merek suku dalam bersaing dengan bisnis berbasis media massa. Panelis akan mencoba menjawab bagaimana kelompok suku dapat memanfaatkan infrastruktur teknologi yang ada untuk mendapatkan keunggulan kompetitif dan bagaimana teknologi dapat membantu kelompok ini mengidentifikasi dan mengatasi hambatan legislatif dan peraturan.
Saverio 'Sal' Scheri (COO, Agua Caliente Casinos), Dan Marcus (Head of Sportsbook & Interactive Gaming, Choctaw Casinos & Resorts), David Bretnitz (Direktur Penjualan Senior, Kambi), Valerie Spicer (CEO, Trilogy Group) dan Steve Berman (CEO, BettHouse) akan memberikan keahlian, dengan Sheila Morago (Direktur Eksekutif, OIGA) dalam tugas moderasi.
Sebuah 'iGaming di New York: Apa yang terjadi di negara bagian pembukaan terbaru?' diskusi akan menampilkan Joseph Addabbo Jr (Senator Negara Bagian, Distrik Negara Bagian 15 New York), Lee Terfloth (COO, Out The Gate Inc) dan Katie Peters (SVP Kebijakan Publik, FanDuel), yang akan mengeksplorasi potensi igaming di negara bagian di mana olahraga taruhan telah meraup lebih dari $1,6 miliar dalam penanganan dan $72,9 juta dalam pendapatan pajak.
Diskusi ini akan dimoderatori oleh Catie Di Stefano (Direktur Pemasaran Komunitas di onlinegamblers.com), yang akan membantu mengungkap mengapa igaming sekarang menjadi perhatian semua orang dan bagaimana situasi saat ini.
Rasmus Sojmark, CEO & Pendiri SBC berkata: "Tentu saja ada wawasan berharga yang dapat diperoleh dari peluncuran produk dan layanan taruhan olahraga di sebagian besar negara bagian AS.
"Namun, penting untuk menyadari bahwa igaming adalah vertikal industri yang berbeda dengan potensi yang sangat besar dan karena itu, harus diperiksa secara terpisah. Untuk merek perjudian, tiba di sana lebih awal bisa menjadi pengubah permainan dan menghadirkan peluang yang signifikan.
"Panel jalur konferensi 'iGaming Americas' memberikan peluang bagus untuk menggali lebih dalam topik yang menarik ini dan menjelajahi 'tambang emas' potensi yang belum dimanfaatkan bagi siapa pun yang tertarik."
Dapatkan tiket Anda di situs web SBC Summit Amerika Utara. Pas grup tersedia dengan tarif diskon $895 (tiket 3 hari) dan $795 (tiket 2 hari).