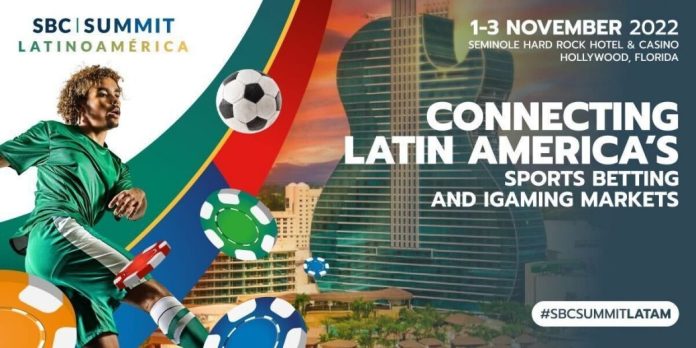 SBC Summit Latinoamérica 2022 mengumpulkan lebih dari 1.000 eksekutif industri senior di Seminole Hard Rock Hotel & Casino, Hollywood, Florida, untuk membahas peluang bisnis dan potensi besar kawasan ini.
Acara pada 1-3 November menampilkan pameran dagang dengan lebih dari 40 stan, program sibuk pesta jaringan malam dan konten konferensi tingkat tinggi yang dibawakan oleh lebih dari 120 kelas berat industri.
Rasmus Sojmark, CEO dan Pendiri SBC, berkata: "Ini adalah KTT terakhir kami untuk tahun 2022, dan tahun ini tidak dapat diakhiri dengan catatan yang lebih positif.
"SBC Summit Latinoamérica terbukti menjadi kesempatan yang luar biasa bagi semua peserta pameran, sponsor, pembicara, dan peserta untuk memamerkan produk mereka dan mengadakan diskusi langsung yang bermanfaat tentang masa depan industri ini di wilayah tersebut.
"Saya ingin berterima kasih kepada semua orang yang terlibat karena menjadikan pengalaman Miami ini istimewa dengan antusiasme, profesionalisme, dan sikap positif mereka."
Selain diskusi panel dan meja bundar yang menampilkan pakar industri terkemuka, para peserta juga memiliki kesempatan untuk duduk dalam pidato utama yang disampaikan oleh jurnalis olahraga legendaris dan duta Playmaker dan Futbol Sites Juan Pablo Varsky dan mendengar dari klub dan organisasi olahraga regional terkemuka.
Para pengunjung acara juga mendapatkan kesempatan sekali seumur hidup untuk mengukur keterampilan bisbol mereka, dengan menguji kecepatan lemparan mereka di bullpen, mengayunkan pemukul di batting cage, dan ikut serta dalam derby home run bola Wiffle di outfield. di LoanDepot Park, markas tim Bisbol Liga Utama Miami Marlins
Cristian Robalino, Vice President of Marketing in the Americas di SBC, menambahkan: "Waktu untuk SBC Summit Latinoamérica sangat tepat — dengan semua mata tertuju pada kawasan, pemilu di Brasil, dan Piala Dunia Qatar kurang dari sebulan lagi, kita semua mendapat kesempatan untuk menyaksikan lantai pameran yang hidup dan terlibat dalam percakapan yang mendalam dan membuka mata yang membantu kami memahami tantangan dan peluang sebenarnya di wilayah yang indah ini.
"Kami sangat bangga dengan semua pekerjaan yang telah kami lakukan untuk acara ini dan dengan rendah hati menerima umpan balik positif yang kami terima dari operator, afiliasi, dan pemasok yang hadir."
Etna Rueda, COO Big Bola, mencatat: "Berpartisipasi dalam SBC Summit Latinoamérica telah menjadi pengalaman yang berharga dalam segala hal, tidak hanya karena kualitas pembicara dan topik yang dibahas tetapi juga karena peluang pemaparan merek dan pengunjung industri yang relevan. SBC Summit Latinoamérica memfasilitasi jaringan bisnis."
Acara tersebut diperkaya dengan acara SBC Awards Latinoamérica yang dipersembahkan oleh jurnalis Meksiko Inés Sainz dan Juan Pablo Varsky. Acara mewah di Seminole Hard Rock Hotel & Casino menampung lebih dari 400 tamu dan merayakan pencapaian industri di semua disiplin ilmu utama.
Mengikuti kesuksesan acara 2022, SBC Summit Latinoamérica akan kembali ke Seminole Hard Rock Hotel and Casino di Hollywood, Florida pada tanggal 31 Oktober – 2 November 2023. Kontak [email protected] untuk informasi tentang peluang pameran dan sponsor.