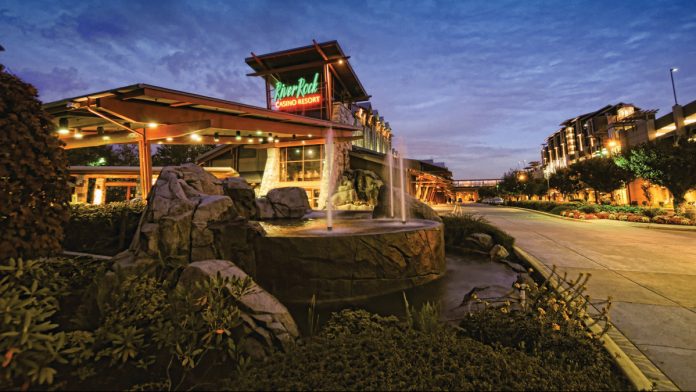 Great Canadian Entertainment telah mengungkapkan bahwa perombakan eksekutif akan dilakukan di grup saat Anthony Rodio pensiun sebagai Chief Executive Officer dan anggota dewan direksi grup.
Selanjutnya, perusahaan game, perhotelan, dan hiburan yang berbasis di Ontario telah mengonfirmasi bahwa Matthew Anfinson, yang sebelumnya menjabat sebagai Chief Operating Officer Perusahaan, akan menggantikan Rodio sebagai CEO.
Setelah afiliasi dana yang dikelola oleh Apollo Global Management menyelesaikan akuisisi mantan Great Canadian Gaming pada September 2021, Rodio dikukuhkan ke peran yang disebutkan di atas setelah pengalaman industri selama hampir 40 tahun.
"Atas nama dewan direksi, tim manajemen, dan anggota tim Great Canadian, kami ingin berterima kasih kepada Tony atas kepemimpinannya yang luar biasa," kata Alex van Hoek, Ketua Board of Great Canadian and Partner di Apollo.
"Tony telah memandu perusahaan melalui periode pemulihan dan pertumbuhan transformatif, sambil menghadapi tantangan COVID-19 di seluruh industri. Kontribusinya untuk Great Canadian akan dihargai oleh perusahaan, anggota tim kami, dan tamu kami selama bertahun-tahun yang akan datang.
"Kami juga senang menunjuk Matthew sebagai CEO, yang dengan senang hati kami pimpin untuk memimpin Great Canadian di bab berikutnya.
"Matthew adalah pemimpin Amerika Utara dalam industri kami dengan pemahaman bisnis yang mendalam. Dia bertanggung jawab untuk mendorong pertumbuhan top-line di seluruh 25 properti kami dan telah memegang peran kepemimpinan dalam operasi, pemasaran, dan analitik."
Sebelum bergabung dengan Great Canadian, Anfinson adalah Senior Vice President of Operations di Caesars Entertainment di Las Vegas, di mana dia bertanggung jawab untuk menciptakan strategi pertumbuhan pendapatan yang berdampak bagi seluruh 56 properti Caesars secara global. Dia juga memegang peran kepemimpinan kunci untuk Harrah's di pasar AS bagian barat tengah mereka.
"Merupakan hak istimewa yang luar biasa untuk memimpin Hiburan Kanada yang Hebat, terutama pada saat yang menentukan perusahaan ini karena kami menetapkan standar industri baru untuk permainan dan hiburan di Kanada," kata Anfinson.
"Kami sangat bersemangat untuk memasarkan apa yang akan menjadi salah satu resor kasino utama di Amerika Utara pada tahun 2023 dengan proyek yang saat ini sedang berlangsung di Pickering Casino Resort dan Casino Woodbine, serta program dan inisiatif inovatif baru yang akan mendorong pertumbuhan di perusahaan kami yang lain. properti dan komunitas lokal di seluruh negeri.
"Kami tetap fokus untuk terus meningkatkan keseluruhan pengalaman bagi para tamu kami, memberikan pertumbuhan jangka panjang dan penciptaan nilai bagi pemangku kepentingan kami, dan melakukannya dengan cara yang bertanggung jawab secara sosial."
Selain itu, Great Canadian juga menyebut Jordan Banks, yang dipuji sebagai "eksekutif teknologi, olahraga, dan media terkemuka", sebagai Ketua Eksekutif pertama grup tersebut. Penunjukan ini efektif setelah menerima persetujuan peraturan adat.
"Saya senang bergabung dengan tim Great Canadian pada saat yang menyenangkan bagi perusahaan, dan karena ekspektasi tamu dan pemangku kepentingan kami terus berkembang di lanskap game dan hiburan. Saya berharap dapat menjadi bagian dari tim yang akan memenuhi dan melampaui harapan tersebut dengan cara yang baru dan inovatif," katanya.