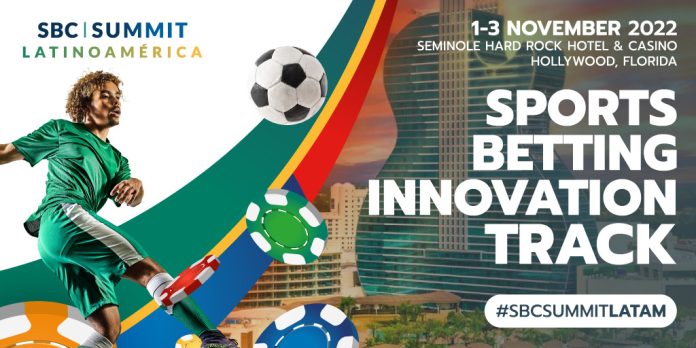 SBC Summit Latinoamérica 2022 akan memberi para delegasi gambaran umum tentang prospek, seluk-beluk, dan inovasi taruhan olahraga di kawasan ini selama jalur konferensi khusus yang dijadwalkan pada 3 November.
Dua perwakilan CONMEBOL akan naik ke panggung untuk membahas bagaimana institusi yang bertanggung jawab atas tim sepak bola paling relevan di dunia mendekati masalah integritas.
Ini akan melihat Graciela Garay (Pejabat Etika dan Kepatuhan) dan Julio Lansac (Direktur Integritas) menjelaskan bagaimana badan pengatur dari Amerika Latin dan Spanyol beradaptasi dengan peraturan baru dari perspektif kepatuhan dan etika. Juan Camilo Carrasco (Mitra, Asensi Abogados) akan mengajukan pertanyaan.
Setelah ini, klub olahraga profesional Argentina River Plate dan grup perjudian Spanyol Codere akan mempelajari detail yang lebih baik dari kesepakatan sponsor mereka.
Juan Cascio (CMO, River Plate), Francisco Lorenzo (Manajer Komersial, River Plate) dan Carlos Sabanza (Manajer Sponsor & PR, Codere) akan berbagi secara spesifik kesepakatan, seperti apa pengalamannya sejauh ini dan kegiatan bersama yang bertujuan untuk mempromosikan perjudian yang bertanggung jawab. Javier Troncoso (Chief Revenue Officer, Futbol Sites) akan menjadi moderator diskusi.
Panel lain akan membahas modernisasi klub sepak bola, transformasi strategi komunikasi tradisional, dan penataan kembali hubungan dengan penggemar melalui kemunculan tim NFT dan esports.
Dua perwakilan dari klub Argentina Boca Juniors, Martin Mendiguren (Presiden Olahraga Amatir) dan Federico Maques (Direktur Pemasaran) akan berbagi pengalaman mereka dengan merenungkan apa yang akan terjadi di masa depan dan melihat apakah penawaran tersebut layak untuk investasi.
Tetap pada masalah sponsor, wacana 'Olahraga dan Taruhan – dua sisi mata uang yang sama' akan menampilkan Santiago Montes (Manajer Inovasi Digital, Club Deportivo Guadalajara), Robert Navarrete (Koordinator Pemasaran Kemitraan, LigaPro), Andrea Rossi (Direktur Komersial , Eropa Selatan & LATAM, Betsson Group), dan Fernanda Sainz (CMO LATAM, Caliente).
Di sini, panelis akan membahas manfaat dari kesepakatan tersebut untuk kedua belah pihak dengan menekankan potensi menjangkau audiens yang lebih muda untuk operator perjudian, serta menambahkan sumber pendapatan baru untuk klub olahraga. Fellipe Fraga (Chief Operating Officer, EstrelaBet) akan menjadi moderator.
Akhirnya, para eksekutif senior akan membahas Piala Dunia Qatar tahun ini yang sangat dinanti-nantikan dan apakah itu akan memenuhi harapan tinggi yang melekat pada acara olahraga sekaliber seperti itu. Florencia Brancato (Head of Global Markets, Pinnacle), Javier Troncoso (Chief Revenue Officer, Futbol Sites), Rony Vexelman (Vice President of Marketing, Optimove), dan Jack Smith (Sales Director, Sportingtech) akan berbagi wawasan mereka tentang masalah ini sebagai Luciana Hendrich (Mitra dan Pendiri, Konten Digital Hendrich) mengambil kendali.
Rasmus Sojmark, CEO dan Pendiri SBC, mengatakan: "Amerika Latin adalah rumah bagi jutaan penggemar olahraga, dan hubungan antara klub olahraga dan perusahaan taruhan jelas merupakan hubungan yang saling menguntungkan.
"Kami sangat senang memiliki perwakilan dari klub olahraga legendaris, Boca Juniors, River Plate, dan CD Guadalajara, dan liga sepak bola profesional di Ekuador berbagi panggung dengan pakar industri dari beberapa merek perjudian terbesar dan paling terkemuka di Amerika Latin.
"Dengan jalur Inovasi Taruhan Olahraga SBC Summit Latinoamérica, kami juga akan memenuhi permintaan akan pengetahuan itu dalam hal modernisasi, teknologi baru, dan inovasi dalam taruhan olahraga."
Konferensi dan pameran berlangsung pada 1-3 November, ketika 1.000 delegasi akan berkumpul di Seminole Hard Rock Hotel & Casino, Hollywood, Florida, untuk mendengarkan lebih dari 100 pembicara ahli dan bertemu hampir 50 peserta pameran yang memamerkan produk terbaru mereka.
Temukan detail lengkap acara, termasuk cara memesan tiket seharga $595+PPN atau diskon tiket grup seharga $495+PPN per orang di situs web SBC Summit Latinoamérica.